Hello, Blog-Friends!!
Last evening, Mr. Inspiring and I went to his sister's house to pick up a couple of things they needed taken to the dump. Since Mr. I was already planning a trip, he asked them if they had anything that needed to go, too. On our last trip walking by the side of their house, I noticed that my BIL had a wooden ladder laying down next to the garage. (OMG - - what was he thinking??? Does he not know all the cool stuff you can do with such a treasure????) As we were getting ready to leave, I just mentioned to him (as casually and as calmly as I could), "If you ever decide to get rid of that ladder, you can get rid of it at my house!!" He grinned and said, "TAKE IT! I'm looking for a fiberglass ladder anyway. I got this one from work a few years ago for free because it didn't have all the OSHA stickers on it." Well, Mr. I almost died laughing at me and how fast I grabbed the ladder!! I didn't want to give my BIL any chances to change his mind!!!
When we got it home, I asked Mr. Inspiring to (
pretty pretty PLEASE
) help me take it apart and/or cut it up. I didn't take any pictures of this. It wasn't pretty. It was hot. Mr. I was sweating.
We cut the back off of the ladder and I had him trim it up a little bit. we'll be using this as a towel rack in the bathroom. I really want to paint it with my Eidleweiss off white and distress it. Mr. I likes it the way it is. (Yeah - - uh-huh, we'll just see about that. Just wait til he finds out what I have planned the next time he goes out of town........) Anyway - I put it up in the bathroom as is. Here's a picture, but PLEASE don't look too closely. We got to the middle of re-doing the bathroom and I stopped. I don't like the wall color. So I didn't finish it. And I left the tape up. (that's the project he doesn't know about, and won't, till he comes back from being out of town...)
I'm not done with it. I just ran out of time last night. I'm planning on making a cute little sign in a frame that says BATH or Le Bathe..... or something cute, maybe........ we'll see what path that project takes me down!!
The front half of the ladder will be staying outside (for now). We, I mean Mr. Inspiring, had to cut off the bottom rung - it was just too tall!! I spray painted a little pail with the wonderful "Rusty" paint I used
for this project!
I cut out my vinyl "W" with my cricut and Sure Cuts A Lot, and that's what I used for the "Welcome" in the picture frame. I had the star. The sunflowers are in a mason jar that I tied to the ladder with twine. The basket at the bottom is an old milk bottle carrier. I still have some things that I want to add, so I'll post updated pictures when it is finished. In the mean time - - here are some pictures!!
The name sign? It's just a piece of concrete border that I painted a few years ago. I didn't seal it like I probably should have, but it's holding up pretty well. The empty-for-now flower pot?? I snuck it out of my neighbor's trash last night when I took Lucy out to go to the bathroom. Gonna spray paint it a different color, then no one will know my secret, right??
That's it for now. I'm planning on something pretty cute for the wire bottle basket thing..... I'll post pictures!! Have a great day!!
Oh - - Mr. Inspiring said that his sister is going to be asking for the ladder back now. I don't think that's a possibility!!!
Hugs ~~ Suz
I'm joining the fun at:
Home Stories A 2 Z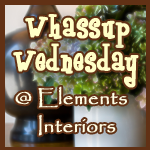 " />